$40 Can Feed You All Week. Here's How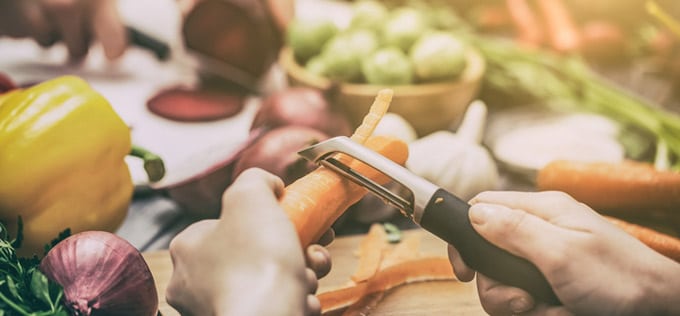 $40 can feed you all week. Here's How: When you think of $40 budget items, what does your mind usually turn to? A tank of gas? Perhaps, your monthly haircut? Maybe $40 means your weekly entertainment allotment, such as a dinner out or a night at the movies.
All these options are fine, but what if $40 was the amount of your weekly grocery trip? If you're like most folks, you're likely thinking "Yeah, right." After all, food is expensive. But, if you're looking for a way to cut costs, I'm here to tell you there are ways to get it done and still enjoy nice meals throughout the week.
Here's a few ways to make it happen.
Be a bargain shopper. When you go grocery shopping, keep to the sale items if at all possible and limit your shopping to budget-friendly places like Aldi and WalMart.
Plan around your current food stock. Take note of what you have and try to tailor your grocery list and meal plans around what you already have on hand.
Shop seasonally. Picking produce that's in season will not only keep your budget in tact as those items are cheaper, but your taste buds will thank you, as well. Items eaten at the peak of ripeness are infinitely tastier than off-season fruits and vegetables.
Think leftovers for lunch. Fast food or cafeteria lunches can get expensive – especially if you're trying to stick to a budget. So, why not have your meals pull double duty as both dinner and lunch the next day?
Pay in cash. Serves to reason if you only have $40 on hand, you can't spend more than that. When you go grocery shopping, leave the credit cards at home and stick to your spending limit.
Go meatless or nearly meatless. Meat is nearly always pricier than produce, so vegetarian options will help you make the most of a tight food budget. Swap out some of your weekly meat-based meals for vegetable- or grain-based main dishes.

Skip the processed snacks. Packaged foods are nearly always more expensive than healthy snacks, so think fruit, veggies with homemade hummus or something similar when you're planning a few snacks.
Pass on convenience items. Those pre-cut veggies are tempting, but they're costly. It's always cheaper to buy a head of broccoli or lettuce and cut it up yourself. Same goes for packs of single-serving chips, cookies, nuts, and other snacks. It's much cheaper to buy a large package and split it into smaller portions.
Make it yourself. Consider learning how to make some of your favorite foods, particularly side items and condiments like hummus and salad dressing. Ingredients for these foods will likely cost less or the same as the item itself and will probably produce more than you'd get if you bought it already made.
Select items with staying power. Think peanut butter, cereals, nuts, beans, frozen vegetables and the like when crafting your budget. These foods typically last longer than a week and can provide some breathing room if things get tight some weeks when extras pop up, which is inevitable.
Be realistic. If you're living on a tight food budget, you're going to have to sacrifice a few extras. This is a tough one for many of us, but if you're looking to trim your food budget to the bare minimum then sometimes going without is what you'll have to do.
Listen, we all have to eat. Food is, after all, the sustenance of life and must be a part of every budget, no matter how tight. The above tips represent a solid start if trimming your food expenses is a goal. If you're in need of additional assistance with this or any other type of budgeting, the team at American Credit Foundation is on hand to help you sort it out.