How to Keep Wedding Costs Down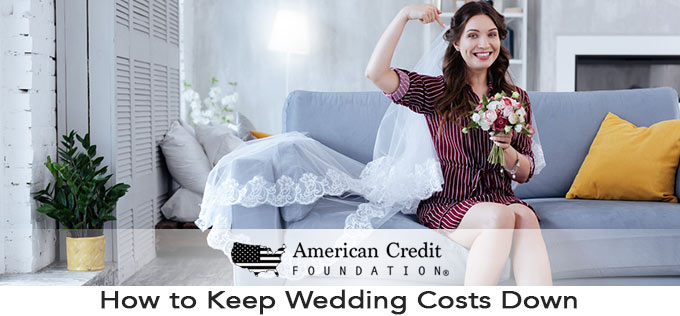 It's your big day: your wedding. It's the symbolic "first day of the rest of your lives" as a married couple. Celebrate the way you want, but don't start your union in debt.
You've already established a budget. And you've set up a cool spreadsheet to track all your expenses to stick to your budget. But now you could use some tips to keep the costs down to create your dream wedding without breaking the bank.
Tip 1. Thwart Marriage Markup
Unfortunately, there are unscrupulous vendors in many industries – from caterers to florists to photographers, to name a few usual suspects – who take advantage of giddy brides and grooms-to-be to make a few extra bucks. They figure you'll pay "anything" for your big day and hike up their costs for wedding parties compared to other kinds of similar-sized parties.
Do your research to know what the industry standards are before entering into any contract. Then shop around. Talk to multiple vendors to get the best value for your requests. If you suspect "marriage markup," you might find that telling them you're planning a family reunion or extravagant birthday party will result in lower quotes.
Tip 2. Trim the List
One of the quickest ways to cut wedding costs is to limit the number of people present. This starts with your wedding party. It's customary to give gifts to the people you ask to stand up with you, and many couples also cover their bridesmaids' and groomsmen's transportation and lodging. This really adds up – especially if each of you asks, say, five people rather than two.
Your guest list is the next place to trim. It will likely be a tough decision to decide which coworkers make the cut or choosing Great Aunt Bea over distant Cousin George, but it's an effective way to lower costs. When you consider that the average price per person could be as much as $100, crossing off just 10 names immediately saves you a grand.
Tip 3. Reduce Printing Costs
Elaborate, full-color invitations are beautiful, but printing costs can be exorbitant. Multiple ink colors, heavyweight paper stock, and specialty shapes or sizes not only cost more to produce but can also necessitate extra postage. Don't feel obligated to get custom-printed thank-you cards – your guests will appreciate your note even on generic cards.
Do you (or your friends) enjoy crafts? Create your own invitations and couple's stationery for your thank-yous. They can bring your personality to the event while saving a ton. Better yet: Forego printed invitations entirely. Send save-the-date postcards that direct guests to an online portal with all the personalized details.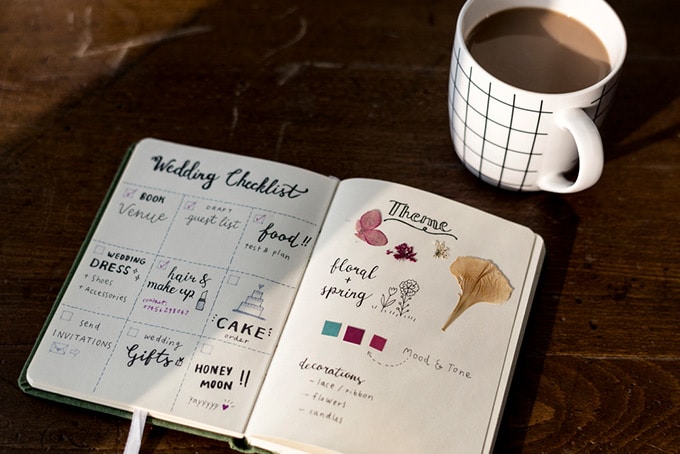 Tip 4. Simplify the Menu
You don't need to offer caviar, Kobe beef, and Dom Pérignon to make your wedding feast distinctive. House specialties that showcase entrees of the region and in-season produce can be economical yet delicious choices that can save big bucks without sacrificing a quality meal.
Whatever your caterer suggests, consider reducing the number of courses (serving three fabulous courses costs less than serving five individual courses, and really – who'll notice?) and keep your menu simple.
Tip 5. Cut (Down) the Cake
Order a small, fancy wedding cake with the frills – plastic bride-and-groom cake topper and all – if that's what you want. Use that as your display and cake-cutting ceremony if you plan to have one. Meanwhile, in the kitchen, have several sheet cakes of the same flavor cut for your guests. They'll never know (or even care) because, hey – it's all cake!
In general, steer clear of multiple tiers, specialty fillings, and specially molded shapes. These are all very time-consuming for your caterer or bakery and can really drive up your dessert costs. Or forego the bakery-produced cake and buy several kinds of cheesecake from a local store. Serve them with different flavored sauces for a unique dessert buffet.
Tip 6: Choose Flowers Creatively
Don't tell your florist, "I only want orchids." If you opt for specialty flowers and refuse to take suggestions for substitutions, expect a huge floral bill. Choosing flowers that are grown locally (rather than flown in from afar) can cut your costs significantly. Feel free to choose a color or color scheme and mention your favorite blooms, and then be open to alternatives – remember, flowers come in a huge variety of shapes, sizes, and colors, and the florist might offer something you've never even considered. And instead of an elaborate bridal bouquet, a single long-stemmed rose can make a dramatic statement.
You don't have to sacrifice quality on your wedding day, but at American Credit Foundation, we're here to help you avoid running up a huge tab that you'll spend the early years of your marriage paying off. Try some of these tips – and if you still need advice on how to start off your life together on solid financial footing, don't hesitate to reach out to one of our personable team members.