Six Questions That Will Help You Find the Perfect Checking Account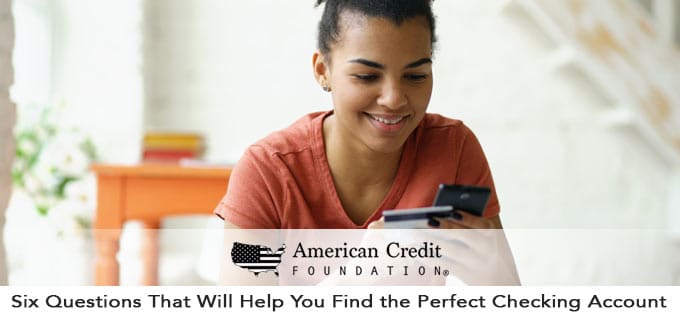 When was the last time you shopped around for a checking account? When you opened your checking account, did you compare several options? Or did you simply open an account based on some kind of "convenience factor" (such as a bank that was closest to home or work, or a bank where you currently have a savings account)? For that matter, when was the last time you even thought about your checking account?
Most of us will go to great lengths to search for better interest rates on credit cards. We'll spend an afternoon getting competing insurance quotes. We'll haggle for lower bills on our cable, Internet, or cell phone services. But most folks don't spend that kind of time on finding the best deal on a checking account.
I get it: It's a hassle to switch checking accounts. But in some cases — especially if you're paying sky-high fees and getting very little (or nothing) in return, it might be well worth your time to do a little comparison shopping. By making a switch, you could end up saving money and even gaining some cool perks while you're at it.
Not sure where to start? Here are six questions to ask when considering a checking account:
1. Brick-and-mortar or online-only? For some folks, having a local branch is a must-have: They simply prefer having access to a physical bank location. They like the drive-thru teller and bank-owned ATM services and they like being able to walk in and talk to a "real person."
But if you prefer to handle most of your finances online and/or you don't care about having a brick-and-mortar bank branch, you might want to consider an online-only bank, which will typically offer lower fees and better customer perks and rewards.
2. Will you use the bank's website or mobile app? If you plan to use technology to manage your checking account, it's important that you choose a bank with an up-to-date website and a reliable, easy-to-user mobile app. A good starting point: Check out reviews by current and former customers. Do they complain about glitchy, out-of-date online banking or apps that seem to crash constantly?
And even if you don't plan to do your banking online or on your smartphone, it might be worth it to know what their customers say a bank's technology: It might give you an insight into things like customer service, security, and overall satisfaction.
3. Is there a minimum balance? Depending on the bank and the type of checking account you choose, you may be required to maintain a certain minimum balance (anywhere from $1 to $1,500 and up) to avoid a monthly "service" fee of around $10 to $15.
Unless you have very specialized checking account needs, you can likely sidestep this by looking for a bank that offers free checking with no minimum balance. A quick Google search will point you in the right direction.
4. Does the account have any transaction limits? Some checking accounts put a cap on withdrawals, transfers, online bill pay, and other transactions. You have a set amount of each type of transaction per month, and if you exceed that amount, you pay a hefty fee. Depending on how you plan to use your checking account, a limit may or may not be a deal-breaker — but it's worth checking out before you commit to opening an account.
5. Does the account offer any rewards or perks? Are they worth it? Everyone likes rewards. Some banks offer nice perks and extras like cash back on debit card transactions, airline points, or bonuses for customers who open new accounts. Of course, most of these "rewards" aren't exactly free: To qualify, you may have to pay a monthly or annual fee or maintain a minimum balance (typically higher than a normal, non-rewards checking account). It's up to you to weigh the pros and cons and decide what's best for you.
6. Do you need a second chance? Folks who have had their previous checking accounts shut down due to excessive overdrafts, bounced checks, or other banking errors may find it difficult to get a new account. Most banks will run applications through ChexSystems, which is a credit reporting agency that specializes in deposit accounts. If you've got a few dings in the ChexSystems database, you may need to look for a bank that offers special "second chance" checking accounts that help you get back on your feet and back in good standing.
Many national, regional, and local banks offer some form of "second chance" account. Keep in mind that most of these accounts come with extra setup fees, higher maintenance fees, and other requirements. But many "second chance" accounts also offer you the option to upgrade to a regular checking account after a set time period (as long as you bank responsibly, of course).
So, there you have it: If you can answer these six questions, you should be able to zero in on the checking account that's right for you. Now get out there and do some comparison shopping! You might find a checking account that will help you save money, avoid fees, or earn some nice rewards.
And remember: a checking account is only one piece of the personal finance puzzle. Budgeting, saving, and paying down debt are all critical to long-term financial stability. The team at American Credit Foundation is always available if you need help, guidance, or advice.