Store Credit Cards – The Good and the Bad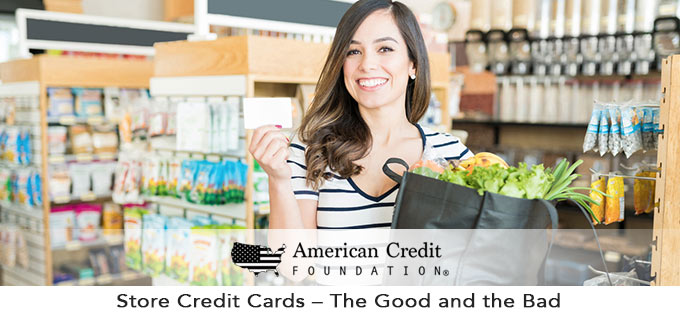 Does this sound familiar?
Every time you check out, the cashier at your favorite department store asks if you'd like to save 10% on today's purchase by signing up for the store's credit card. You perpetually turn down the offer because you don't want to go through the hassle of the paperwork. But you remain intrigued. (After all, who wouldn't want to save 10%?)
If you shop at the same retailer frequently throughout the year, you might benefit from taking the time to sign up for their store credit card on your next visit. Both store co-branded and non-store general-purpose credit cards allow you to pay for purchases over time and earn rewards, and both – when used responsibly! – can help you build credit. Just be sure to take into account several considerations before signing up.
Pros of Store Credit Cards
Membership, they say, has its privileges… At least that's what a certain corporate motto had us believing in the 90s. And it is true, to some extent. Many store credit cards offer a wealth of options for cardholders.
Easier qualification: It can often be easier to qualify for a store credit card than a general-purpose credit card. This can be a good option if you've never had a credit card or need to work on building or rebuilding your credit.
Ongoing discounts: In addition to that initial discount on your purchase when you sign up for a store's credit card, most retailers offer continuing discounts and special store coupons for cardholders.
Rewards program: Many retailers run their own rewards program to show appreciation for brand loyalty, often with bonus points when using the store credit card to make purchases. Some co-branded cards will even accrue these points elsewhere, turning non-store purchases into additional rewards you can redeem on their brand.
Exclusive benefits: Many retailers offer elite promotions or other continuing advantages that benefit cardholders only. Things like free expedited shipping, extended return timeframes, access to exclusive products, and special financing offers can really add up to serious savings.
Cons of Store Credit Cards
Benefits like these make co-branded store cards very appealing. But are they always the best option? Opening a new store credit card on the fly just to gain that 10% off isn't always the wisest idea – for a number of reasons.
High interest: Co-branded credit cards often carry a high-interest rate. If you typically don't pay off your balance but carry it over from month to month, you'll wind up paying a lot more with these store cards.
Low rewards: A store credit card's rewards program might make it harder to accrue points and less valuable than one set by a general-use credit card. What's more, the introductory bonuses are usually much lower with a store card. Getting that 10% discount on your purchase might seem like a perk, but you can also find general-use rewards cards that offer sign-up bonuses worth hundreds of dollars.
Limited options: Store credit cards reward your loyalty – the point is to keep you shopping there, so your rewards are usually limited to that retailer. This means that you may feel pressure to continue shopping at that store to benefit from having the card, even if you find better options somewhere else.
Deferred-interest promotions: Many credit cards entice new cardholders with an introductory 0% annual percentage rate (APR). You don't accrue any interest if you pay off the balance before the end of this promotional period. But beware, some store cards offer "deferred-interest promotions" rather than 0% APR. If you have a balance at the end of your deferral period, you'll have to pay all the interest that would have accrued during that time.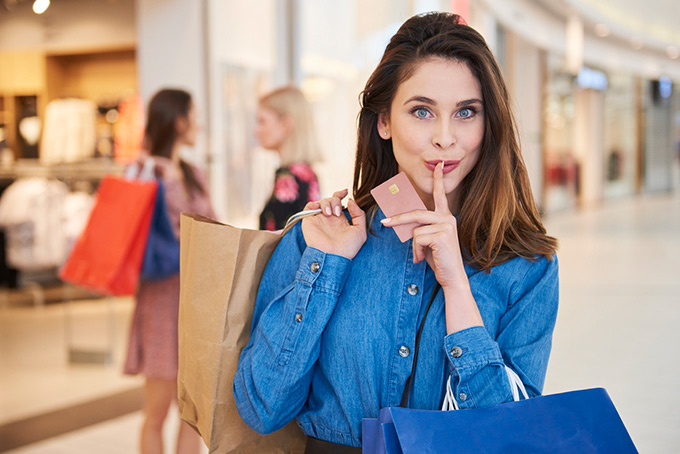 Only you can decide which credit cards are right for you. If you've done your research and determined that your favorite store offers a credit card with rewards that will truly benefit you and exclusive cardholder benefits that you'll actually use, this might be a smart financial option. Just don't fall victim to the sales pitch: A general-purpose card with its own rewards program may offer more points on purchases without locking you into a certain retailer—and these types of cards typically come with better financing options. And remember to pay off any balances in full each month to avoid interest charges and building up debt.
Still wondering whether to accept your favorite store's co-branded credit card offer? If you've done some digging and it seems like a great deal, but you have a nagging suspicion, reach out to the friendly team at American Credit Foundation. We'll work with you to help you figure out whether the benefits of a co-branded card outweigh the drawbacks for your particular financial situation.