Nine Banking Mistakes You Can Avoid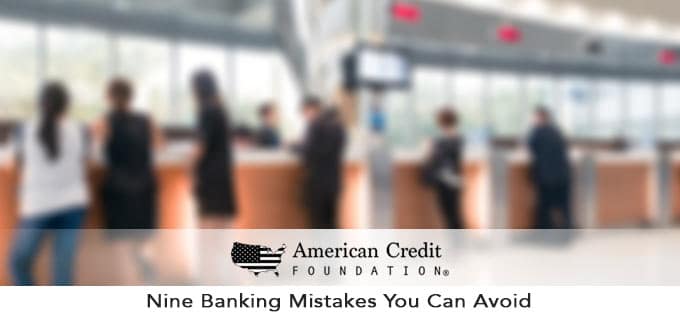 Your bank can be a valuable tool to help you track your budget, pay your bills on time, and save money. But if you're making any of these common banking mistakes, your bank can also be a source of frustration. We've rounded up a list of the most common missteps people make with their bank accounts. Are you opted in to overdraft protection? Are you still paying your bills the old-fashioned way? Read on to see how many of our nine banking mistakes you might be making.
Paying unnecessary fees. If your bank charges you just to have a checking account, you should consider taking your business elsewhere. Sure, checking account fees aren't huge — but there are plenty of banks out there that offer free checking, so there's no real reason to pay for it. Find a bank with free checking and keep your money where it belongs: In your account.
Not shopping around. Why did you choose your bank? Was it because of low fees and great customer service? Because they've got cutting-edge online and mobile banking? Because they behave ethically or make your community a better place to live? Or did you pick your bank simply because it was close or because you'd seen their ads on TV? Don't get us wrong: There's no "right" reason to pick a bank. But your choice should reflect what matters to you. If you can't explain why your bank was a good choice, it might be time to explore your options.
Forgetting about credit unions. Maybe your ideal bank isn't a bank at all. Some folks prefer credit unions. Unlike big banks, credit unions are nonprofit, which typically translates to things like better customer service and more favorable terms for loans. Just keep in mind that, due to their smaller size, some credit unions may not offer some of the high-tech bells and whistles that you'd find with a big national bank.
Using overdraft protection. Overdraft protection can wreak havoc on your finances. All it takes is one transaction to create a domino effect that drains your checking account and leaves you in the red. Our recommendation? Opt out of this "service."
Not going paperless. Choosing paperless statements is better for the environment (no wasted paper) and your personal security (no sensitive documents to shred at the end of the month).
Not using online bill pay. Still paying bills the old-fashioned way? It might be time to take the plunge and go electronic. Using your bank's online bill pay service can ensure that your payments go through immediately — no more worries about payments getting lost in the mail and no waiting for checks to clear. And if you automate your bill pay, you never have to worry about late payments.

Using one bank for checking and savings. Using one bank for everything is convenient. In fact, maybe it's a little too convenient, since it gives you the ability to transfer money from one account to the other in the click of a button. Want to keep a little distance and avoid the urge to spend your savings? Consider opening a checking account at one bank and a savings account at another. This also gives you the option to choose the banks that offer the best terms for each type of account.
Being lax about security. Protect your sensitive information from would-be hackers: Change your password at least once a year, and don't use things that are too easy (like your kids' or pets' names or your anniversary). See if your bank offers any additional security measures like two-step verification or unique security phrases.
Not updating your banking apps. Updates often contain security enhancements and fixes for known bugs, which means if you don't keep them updated, they can also make your banking information vulnerable to hacking and identity theft.
So, have you made any of these banking mistakes? Remember that it's never too late to fix them. You'll be glad you did. Another thing to remember: The team at American Credit Foundation is always available to answer your questions about finances, money, and budgeting.