The Best Things to Buy To Build Credit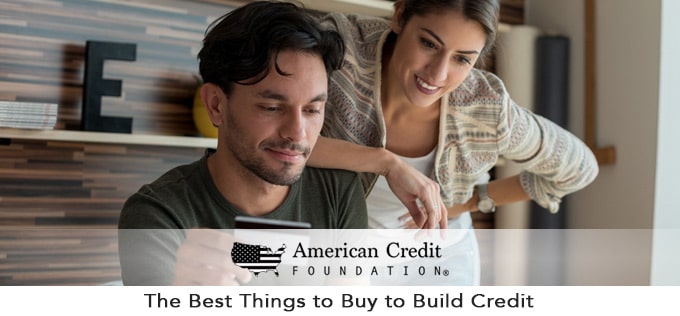 Have you checked your credit score lately? Is it a little low for your liking? Are you trying to build a solid credit history after years of going cash-only?
There are lots of reasons you might want to boost your credit score, but it can be a tricky endeavor: On one hand, you have to use credit cards to improve or build your credit score. On the other hand, though, you have to be very careful not to misuse or abuse your credit cards by overspending.
If you've read this blog before, you know that the folks at American Credit Foundation believe that credit cards can be useful tools — if you know how to use them safely. So, what's the real key to making your credit work for you, rather than against you?
First, charge only what you can pay off each month. Treat your credit card like cash. If you can't pay it off with cash immediately, don't buy it. End of story.
Second, pay the balance in full every month. No excuses. This will ensure that debt doesn't pile up, and it also ensures that you don't end up paying interest on the purchases you make.
There are several ways to do this, but a good strategy is to use your credit card to buy things that you need to buy anyway. This ensures that you're not buying extra unnecessary items just to "build credit" — and it also allows you to stick closely to your budget (it should go without saying that you need a budget!)
Ready to get started? Here are five types of everyday purchases you can make with your credit card:
Groceries. Your monthly grocery bill should be one of the first items built into your budget. You're going to buy food anyway, so using your credit card is a good fit. Just make sure that you have the cash reserves to pay for your groceries — and don't be tempted to overspend just because you're opting for plastic instead of paper. If you find your food bill is a bit pricey, consider cutting out on-the-go lunches by bringing leftovers to work, and nix nighttime dinners as much as possible. Do what you have to in order to get your grocery budget under control and payable each and every month.

Gas. If you're like most Americans, your car is a daily necessity and, as we all know, that car isn't going anywhere without gas. Do your best to estimate how much your monthly needs are and budget accordingly. There's another bonus to using credit cards at the pump: Credit cards offer more fraud protection than debit cards do. With skimmers on the rise in some areas, using a credit card can provide extra peace of mind.
Utilities. Paying your electric, cell phone, water, or Internet bills them with your credit card can boost your score in two ways: First, if you enroll in an autopay program, it'll ensure you never miss a payment, which is a major credit score buster. Second, utilities are a no-brainer when it comes to monthly budgeting.
Rent. This might not be an option for everyone, but some apartment and/or condominium management companies allow renters to pay with their credit cards through an online service. Check with your management company to see if this service is available to you.
Small (or small-ish), irregular expenses. If your budget is built properly, you will have room for miscellaneous items such as special grocery purchases, a birthday present, a one-time sports participation fee, last-minute household needs and the like. Theoretically this can include anything, but what's important is these purchases be ones you can easily afford without pulling money elsewhere in your budget.
Using credit properly takes discipline and a strong resolve to work toward your stated goal. The bottom line is anything you charge to your credit cards will work to boost your score so long as you're paying it off in full each month. The purpose of focusing on charging regular monthly bills is to ensure you have a solid starting point when you embark on your credit-building journey, one that will most likely lead to success.
Good luck! And remember, if you find yourself needing additional advice in regards to credit card management and balance repayment, the team at American Credit Foundation is always on hand to help you sort it out.